New Launch! Star Trek: The Next Generation: Build the U.S.S. Enterprise NCC-1701-D!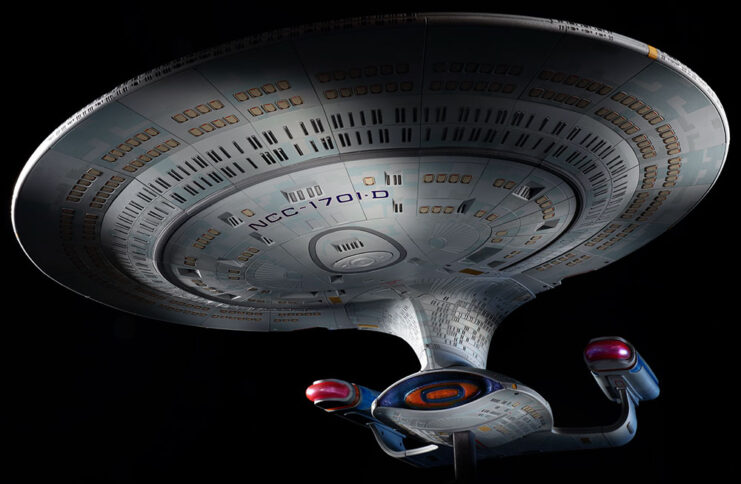 It's iconic! It's huge! It lights up! It can be yours!
This new fully authorized Star Trek build-up lets you construct your own massive model of the U.S.S. Enterprise NCC-1701-D as it appeared in seven seasons of Star Trek: The Next Generation.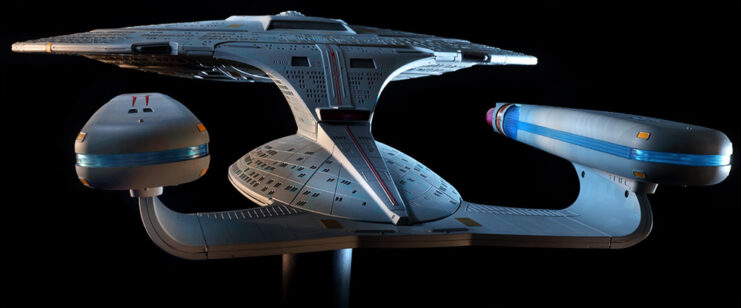 Measuring over 28 inches long, this die-cast metal model is based on a careful study of the original shooting models. The makers of Star Trek: The Next Generation actually used three different models of the Enterprise-D, all of which were subtly different. ILM built a six-foot version that could separate, and a less elaborate two-foot version that could be used for more distant shots In TNG's third season, the VFX team built a new four-foot version that was easier to use.
Pulling elements from all three original models, our model comes with fully functioning lights and has been designed to look as much like the onscreen version as possible.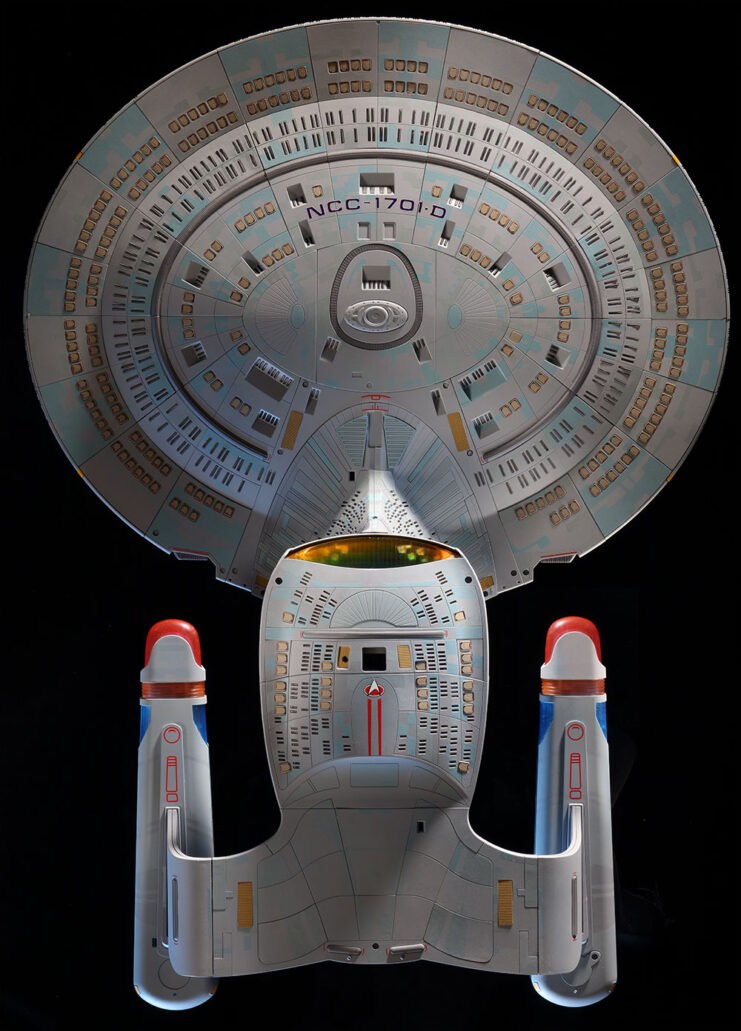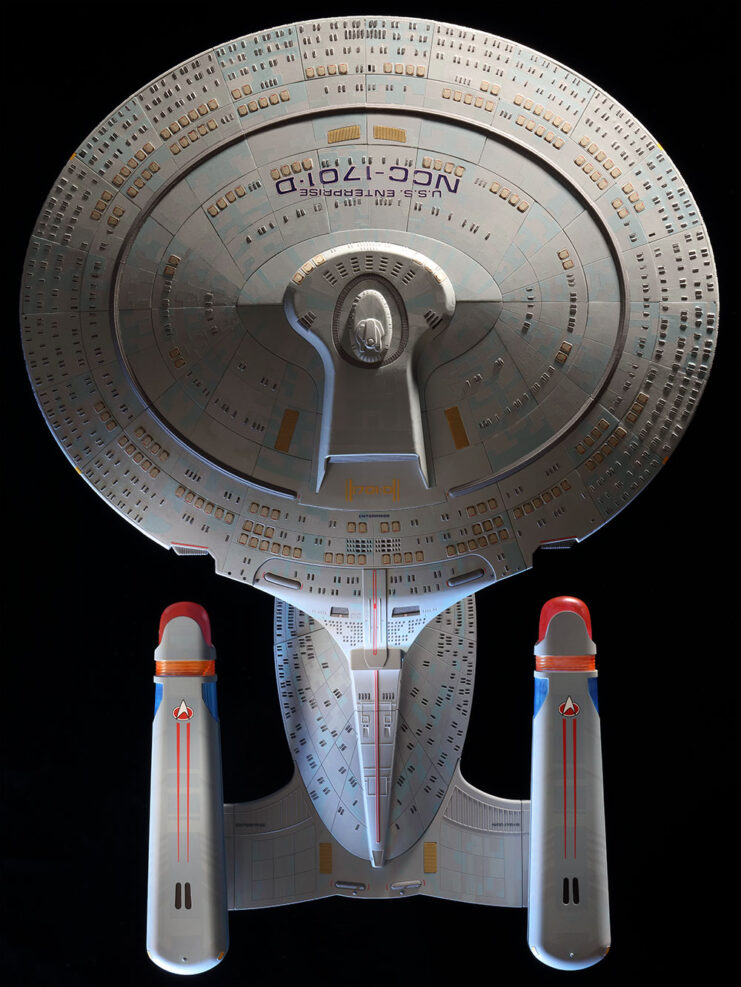 Dan Curry, legendary VFX producer on The Next Generation, Deep Space Nine, Voyager and Enterprise, says that this "beautiful model" was "such good quality that we could have used it for some of the shots we created for The Next Generation. Nowadays visual effects are mostly done with CG. This reminds me of the incredible models we used to work with for traditional effects, which were built by master craftsmen."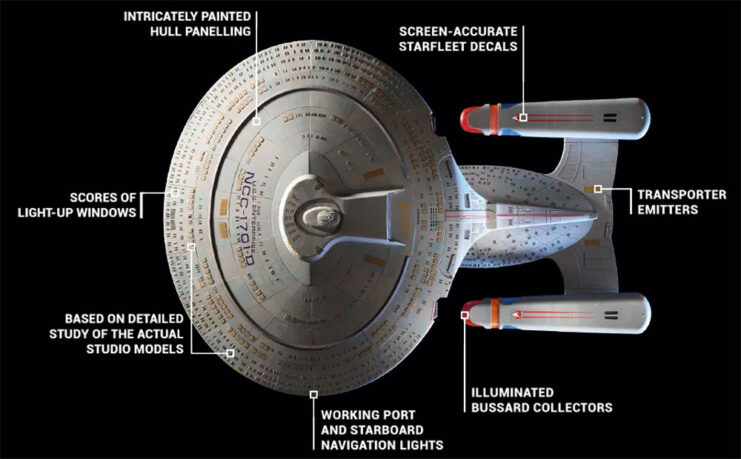 The model replicates every last detail of the U.S.S. Enterprise-D, from its phaser strips and RCS thrusters to the Captain's yacht, including:
• Expert color-matching to the starship's on-screen appearance
• Decals to capture the tiniest details of each component
• Saucer and stardrive sections that can be cleanly separated for display, just as seen on the screen.
• Working internal lights that match the original studio model, illuminating the ship's windows, engines, navigation lights, and main deflector
• Separate power sources for the stardrive and saucer sections, to keep both lit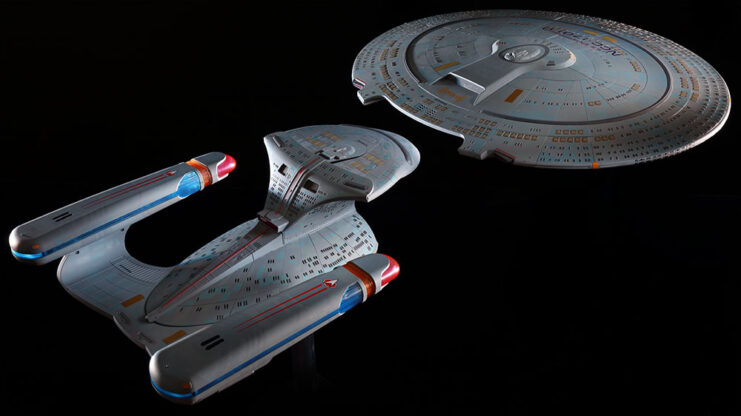 This highly anticipated replica of Captain Picard's classic ship is now available to order!
Each model kit is delivered directly to your door and comes with new ready-painted parts and easy-to-follow instructions. All model parts screw and slot into place seamlessly, with no need for gluing/sticking.

Every delivery comes with an in-depth magazine featuring simple instructions, labeled and color-coded for ease of assembly, plus behind-the-scenes information, insightful interviews, and astounding art from the people who made TNG, starting with how Andy Probert designed the Enterprise-D itself!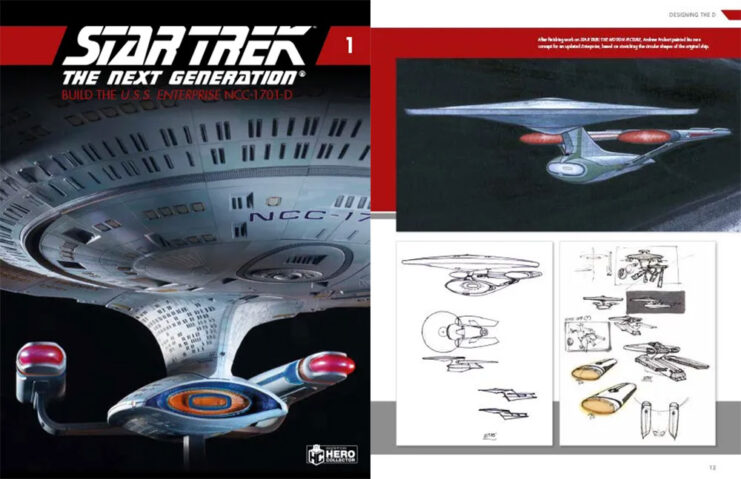 Pre-order today and receive your first two model kits, a FREE binder to hold the accompanying magazines and an invitation to join our exclusive member's newsletter. Plus pre-order before February 15, 2021, and you will receive TWO exclusive pre-order gifts.