Patrick Stewart has confirmed that the third season of Star Trek: Picard will be the last.
In an interview with SFX magazine, the star said the plan was always that there would be just three seasons. The third season is currently being filmed back to back with Season 2, after a delay due to positive Covid tests within the crew.
In the interview, showrunners Terry Matalas and Akiva Goldsman described the first Picard season as being about 'rebirth and renewal', with the second 'an exploration of the heart' for Jean-Luc.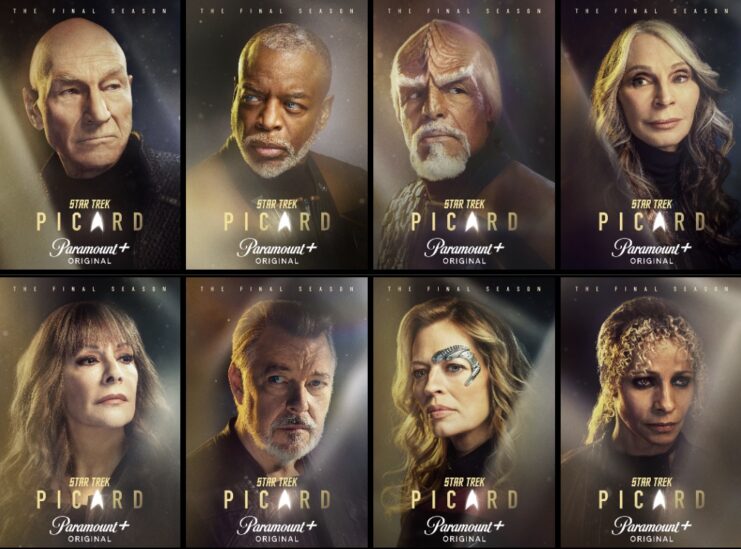 "It's a time-travel story and all good time-travel tales are emotional at their core, and speak to something that's happening with your main character," said Matalas. "So we started by asking ourselves the question of season one: how do we deconstruct Captain Picard? What don't we know about him? Why is he on a vineyard by himself with a dog? Why did he never marry Beverly Crusher and have a family of 10? Those are jumping-off points to answer some of those personal mysteries."
Matalas gave hints about Q's return to Picard's universe: "It was about how you tell a story about Q that's unexpected, and not the same Loki-esque shenanigans that we are used to. How does it have real dramatic weight? And that was our jumping-off point.
You will definitely see a side of Q you've never seen before. There are some things going on with Q that are definitely surprising, considering the kind of being he is. And how that would reflect on Jean-Luc Picard and what's going on with his life at the moment. The first two episodes are a pretty wild ride."
The new season sees the return of Stewart as former Starfleet captain Jean-Luc Picard, alongside Alison Pill, Isa Briones, Evan Evagora, Michelle Hurd, Santiago Cabrera, Jeri Ryan, Orla Brady, Annie Wersching, Brent Spiner, plus John de Lancie as Q and Whoopi Goldberg as Guinan.
Star Trek: Picard returns to Paramount+ in the States on March 3, with, hopefully, a UK premiere on Amazon Prime soon after.
Release Date, Cast, and Info
The highly anticipated Picard Season 3 was finally teased with new footage that aired on January 29th, 2023 during the AFC Championship Game on CBS and Paramount+. The footage brought back many of the beloved Next Generation crew and showed them back in action.
The cast for Picard Season 3 will include the return of Sir Patrick Stewart as Jean-Luc Picard, as well as LeVar Burton, Michael Dorn, and Gates McFadden as Geordi La Forge, Worf, and Dr. Beverly Crusher respectively. The show will also welcome two new cast members, Ed Speelers (Outlander) and Todd Stashwick (12 Monkeys).
In the trailer, fans were given a glimpse of Picard's old friends, as well as the return of AI villain Professor Moriarty, who was featured in the teaser footage in a menacing manner. The trailer was previously released at New York Comic Con and had fans eagerly waiting for the release of Picard Season 3.
In the US, Star Trek: Picard season 3 will release on Paramount+ on February 16th, 2023 with new episodes arriving weekly. In the UK, fans will be able to watch the show on Amazon Prime Video the following day, with the premiere on February 17th, 2023.
Overall, Picard Season 3 promises to be an action-packed season with the return of old friends, new cast members, and a menacing villain. Fans were eagerly waiting for the release date of Picard Season 3 to see what's in store for the Next Generation crew.