The first trailer for next year's The Lost City has dropped online – and it looks hilarious.
The film's about a romance fiction writer by the name of Loretta Sage (Sandra Bullock) who, while embarking on a book tour with her star (played by Channing Tatum), is whisked away to a mysterious island by a wealthy, slightly shady explorer, Fairfax (Daniel Radcliffe), in order to find the actual lost city her book is based on. The pair get caught up in a survival adventure in the real world, leading to all sorts of anecdotal mishaps.
Take a look at the footage below:
Surprisingly, the movie actually looks rather funny, unless they've crammed all the good parts into the trailer. It's certainly got a Romancing the Stone vibe, albeit with some accentuated slapstick and verbally comedy-heavy moments.
Whether or not the trailer shows too much is debatable, but we get a glimpse at the 'real' hero, in the form of a luscious, golden-haired Brad Pitt, who swoops in when things begin to go awry, as the three team up for a tongue-in-cheek daring escape.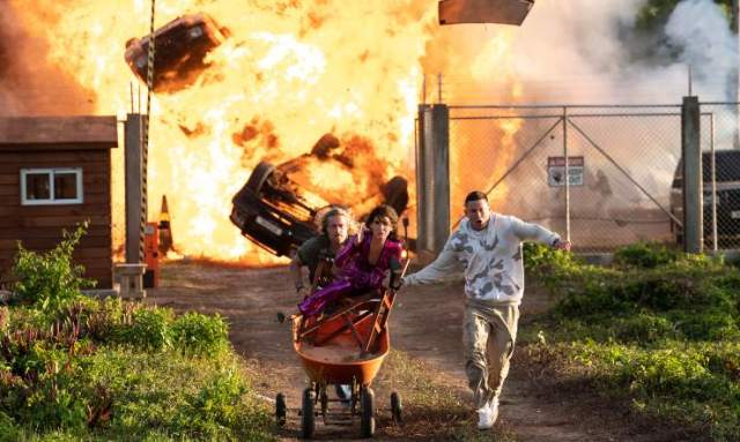 Starring Bullock, Tatum, Radcliffe and Pitt, Paramount's action-adventure movie has apparently had a name change over time, with Lost City of D, poking fun at 2016's The Lost City of Z, starring Charlie Hunnam, Tom Holland and Robert Pattinson, still as its title on its IMDb page. The Lost City of D is the book's title within the film, which satirises the idea of exotic romance adventures.
Directed by Aaron and Adam Nee, The Lost City also stars Patti Harrison, Oscar Nunez, Da'Vine Joy Randolph, Raymond Lee, Thomas Forbes-Johnson and Hector Anibal.
The Lost City is in cinemas from 25 March 2022.