Spider-Man: No Way Home (check out our 5-star review here) may be all fans are talking about right now, but what about the memorable moments Spidey has had with one of his fiercest enemies, Green Goblin, over the years? Paul Dunne swings back through their illustrious comic book history.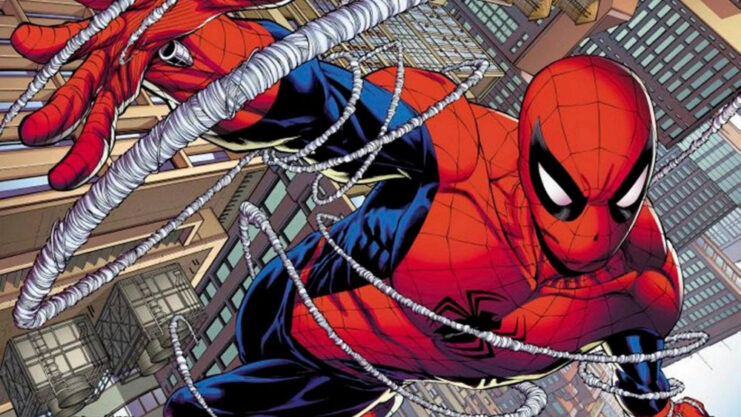 In comics, our heroes are often defined by their villains –  and usually by one villain in particular – regardless of how large their rogues gallery is. Superman has Lex, Captain America has The Red Skull, and Batman has The Joker. But what about Spider-Man, the webbed hero who often faces off against (at least) six sinister villains? Who is his arch-enemy?
One could make an argument for Otto Octavious, but for us, there's only one cackling bad guy that fits the bill: The Green Goblin. Goblin has gone on to wreak havoc in Peter Parker's life for decades, providing a stark contrast to Spider-Man's totemistic animal-themed villains, such as The Vulture or The Rhino.
The Goblin is scheming madness incarnate, causing chaos for ol' webhead and – as we'll see in this countdown of five of their most significant comic confrontations – has threatened to ruin his life in several significant, lasting ways!
5. The Grotesque Adventure Of The Green Goblin (The Amazing Spider-Man Vol.1 #14, 1964) – Stan Lee & Steve Ditko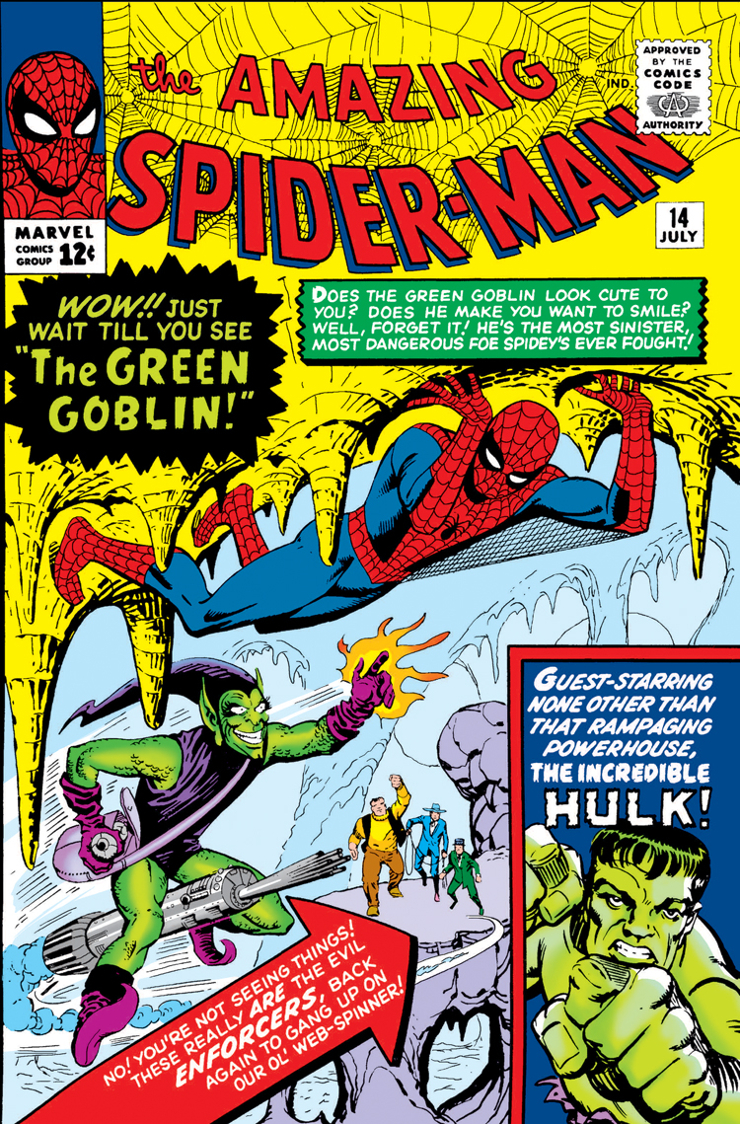 Let's get the Glider fired up with The Green Goblin's first appearance and a conflict that would set the tone not just for Spidey and his arch-nemesis, but for so much of the Marvel Universe. The Goblin arrives, fully formed and, on a weird grace note, teams up with Hollywood movie-makers (and a gang known as 'The Enforcers) to fake a film and, in the process, ensnare Spider-Man with the intent to do battle with him, using his flying 'Broomstick' – an early version of his signature glider.
What's great about this is how Spidey and Goblin's battle sends them into a cave – which just happens to be the hiding place of The Incredible Hulk! In a template-setting trope, Spidey has to turn his attention to fighting a rampaging Hulk as Green Goblin makes his escape, using a device that would be used again and again.
4. The Goblin & The Gangsters (Amazing Spider-man Vol.1 #20, 1965) – Stan Lee & Steve Ditko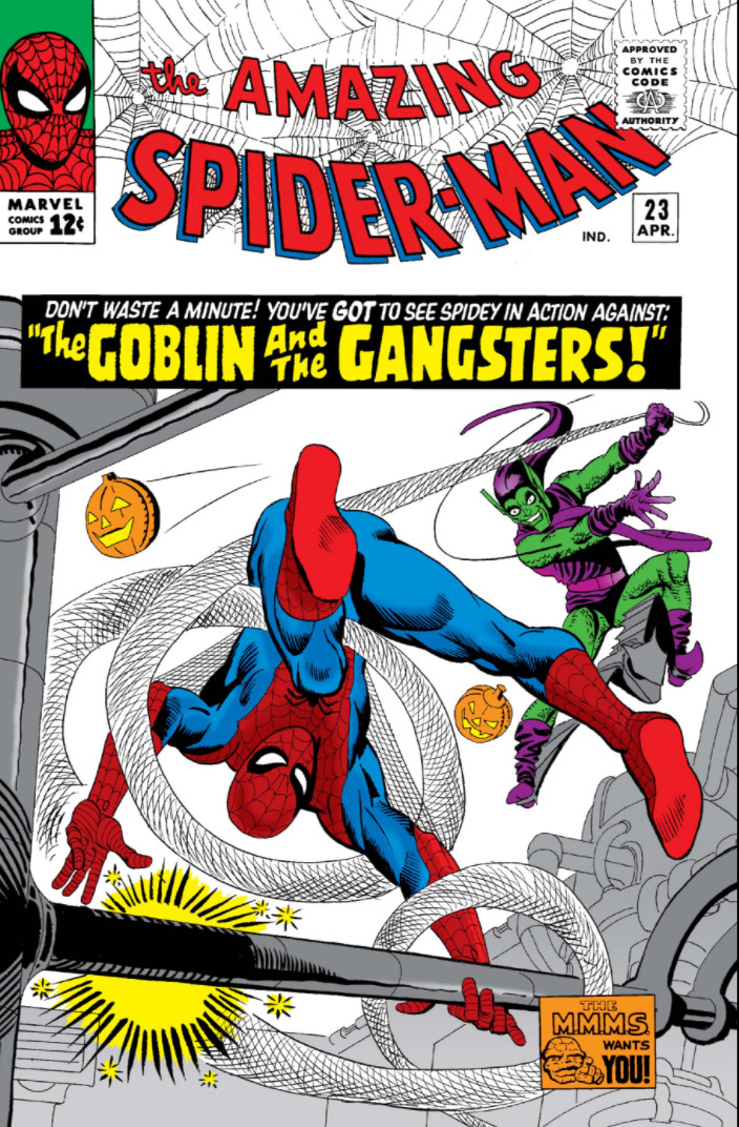 Despite the fact the kind of long-form storytelling that lent itself to graphic novel collections was still a few years away and wouldn't appear until Black Panther hit the stands, the '60s Spidey did have a running thread through his encounters with Green Goblin, who spent quite a few of these issues trying to unite New York's underworld under his control.
In doing so here, he's mistaken for a hero and thanks to The Daily Bugle, Spider-Man was cast as the villain. These early stories feature some fun battles, with Peter having to fight on two fronts again! And, even in those scenes, Peter still has to grapple with the mundane.
During a fight with gangsters Goblin is trying to recruit, Peter takes a timeout to phone Aunt May and tell her he'll be late for dinner! We get some teasing about Goblin's real identity as Stan The Man was obviously preparing readers for the big reveal.
There's some interesting writing at play – during a conflict both Spidey and Gobby run out of toys to batter each other with, creating a kind of mirroring between Spidey and The Goblin. This is a fun highlight with some cool moments and seeding that'll pay off later.
3. How Green Was My Goblin (The Amazing Spider-man Vol.1 #39, 1966) Stan Lee & John Romita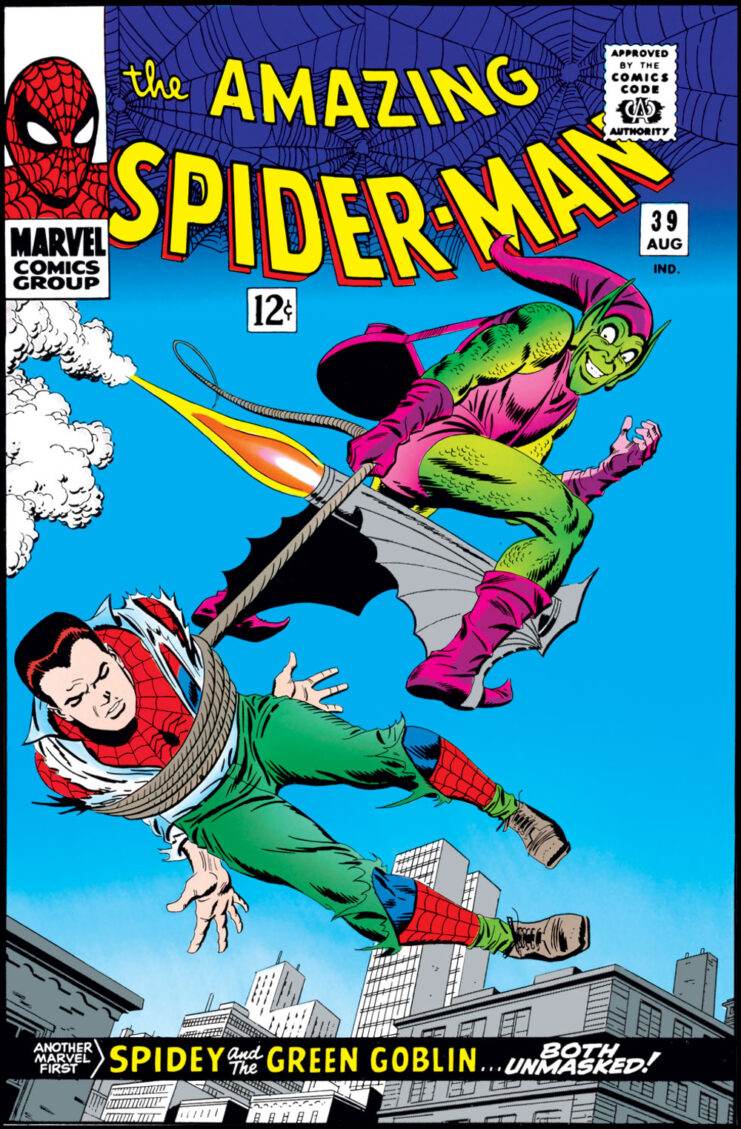 The major turning point in the Spidey/Goblin conflict starts like any other Spidey book: with Goblin plotting how to take down Spider-Man but is soon elevated with two shocking moments. And they do not combat moments or deaths, but revelations.
First, as Peter Parker arrives home after battling with The Goblin, he is surprised by someone calling his name… and that someone is the very enemy he was fighting earlier in the day – The Green Goblin!
Somehow his arch nemesis has figured out his secret identity, putting everyone he loves in danger. But that's not Gobby's final surprise: he pulls off his mask to reveal Norman Osborn, the father of Peter's best friend, Harry! This personalized their war and made it all the more acute and dangerous, setting new rules for the way their rivalry would manifest itself years down the line.
2. The Night Of The Goblin! (Peter Parker: Spider-man #74, 1996) – Howard Mackie & John Romita, Jr.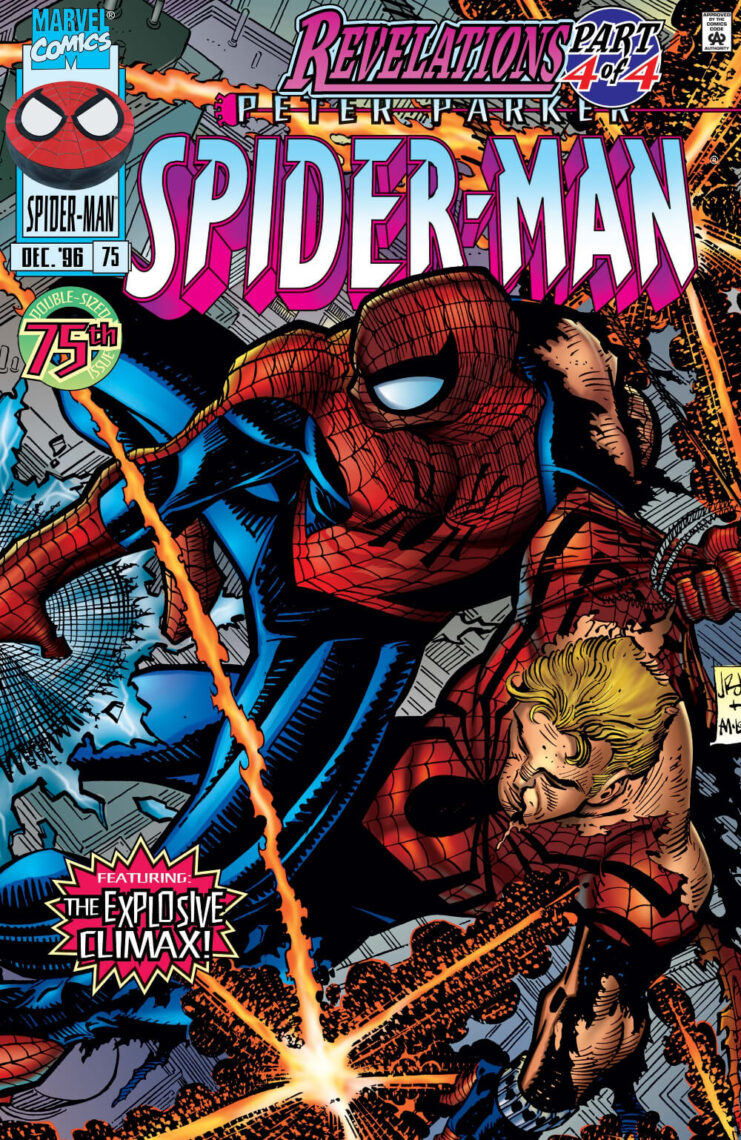 With Norman Osborn dying at the end of The Clone Saga 20 years earlier, Night of The Goblin was a welcome chance to shake off a lot of the old continuity and reset The Green Goblin. Peter is kidnapped by him and imprisoned in a warehouse. With our hero expecting this iteration of The Goblin to be Harry Osborn, he's horrified when the mask comes off and he's confronted with Norman instead, a man he believed to be dead!
Norman proves his identity, by showing Peter the glider-shaped scar from many years before. The stage is set for a knock-down, drag-out fight where Peter tries to discover what happened to the baby Mary Jane had years before – a baby Norman kidnapped and probably killed. This is one of the finest modern-day Spidey stories and a standout in an era of comics whose excesses produced few classics.
1. The Night Gwen Stacy Died (The Amazing Spider-man Vol.1 #120-#121, 1973) – Gerry Conway & Gil Kane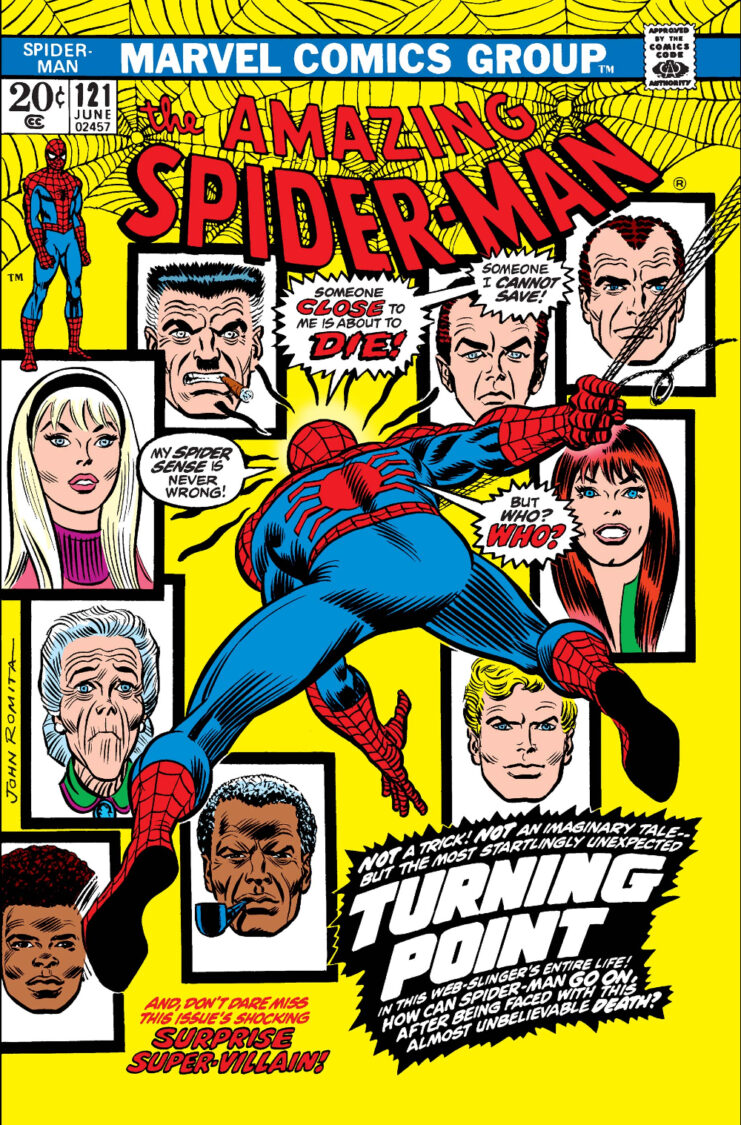 This is the one. The character death by which all others are measured. At the time of publication, this was a controversial story, not just because it killed a beloved character, but because it arguably wasn't the Goblin that killed Gwen, but Spidey in his attempt to save her (if you don't know, Peter shoots webs at a falling Gwen, catching her, but the force of whiplash snaps her neck).
This has everything you want from comic book melodrama – Spider-Man crying over the corpse of his lover, a furious final battle when he tracks The Goblin to a warehouse and stops just short of beating him to death.
It's followed by a final act of evil as Gobby summons his glider to impale Parker, but is himself fatally wounded when spidey senses warn him of impending danger. It stands the test of time as one of the most shocking confrontations between the two characters – and one of the greatest comic book stories of all time, too.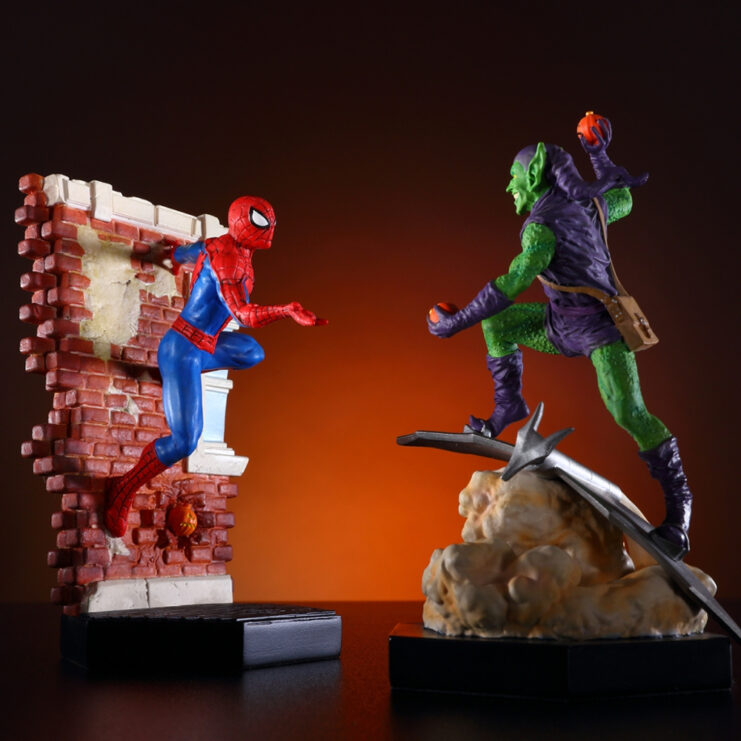 If you're currently being swept up by the Spider-Man hype or simply need that last-minute Christmas gift sorting, then check out Hero Collector's incredibly detailed, 1:16 scale, hand-painted Marvel VS. series, featuring Spidey himself and his iconic enemy The Green Goblin. Order both, as well as the others in the collection.