Lucifer is currently bidding goodbye with the last season now streaming on Netflix. Sarah Cook provides the final judgment.
Well, hell be damned; Lucifer Morningstar is now God! Yes, the fallen angel has come a long way over six series. He has dabbled with all sorts of trouble on a biblical scale, but the conclusion of Season 5 saw him battle his own twin brother in order to claim the ultimate throne. But becoming God may be Lucifer's biggest challenge yet.
Episode 1 kicks off six weeks after the war and Lucifer has yet to ascend to the silver city and start his new job. Instead, he and Chloe, who is now retired from the LAPD, have been on extended vacation culminating in a date night at the Magic Castle.
However, when part of the act dies, the pair can't help but slip in old habits, much to the chagrin of Lucifer. Especially when the investigation starts to explore the secrets of the magic tricks Lucifer holds dear.
It's a nice exploration of the couple and their inner foibles – from Lucifer who is going to miss the wonders of the world when he'll known literally everything as God to Chloe struggling to let go of her old life as a detective.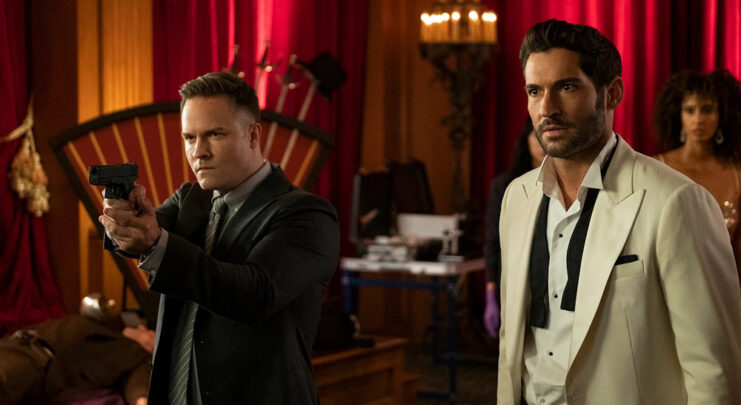 RuPaul Drag Race fans will be happy to see familiar faces in Episode 2 as Katya and Bob the Drag Queen make appearances. The episode itself is OK, without much juice in the murder itself and the journey of Lucifer or his friends. All though it's nice to see Ella try with newcomer Carol (Scott McPherson) and dispel her hang-ups over dating a serial killer in previous seasons.
Similar to the musical or noir episode in Season 5, Lucifer takes a detour into the world of Hanna-Barbera in Episode 3. Looking for answers as to why he is hesitant about taking on the top job, Chloe and Lucifer revisit their first case together – Jimmy Barnes.
However, Barnes' hell-loop is pure cartoon madness which makes for an interesting episode, especially seeing Lucifer censored and, well, smoothed. More so, it gives Lucifer a chance to examine his wayward feelings about becoming the Big Guy and the episode becomes more emotional than expected.
The season has already opened with a big mystery – who is the new angel sat on the throne. By the end of Episode 3, we have a clearer idea, but it does pose new, complex questions. Brianna Hildebrand, who viewers will recognize as Negasonic Teenage Warhead from Deadpool, plays this mysterious Rory and she is terrific, able to be funny and emotional. A fine addition to this growing family.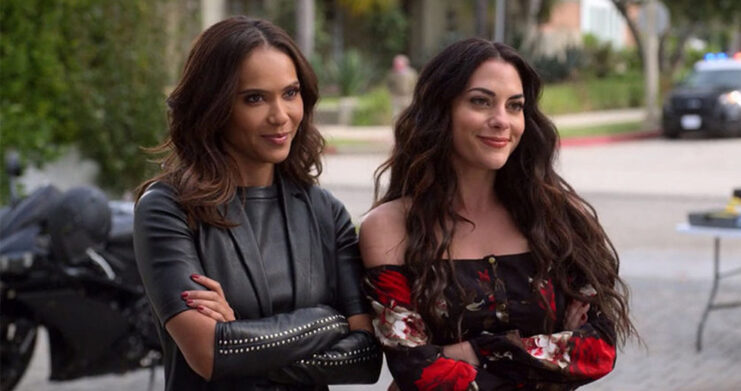 This final season of Lucifer holds a lot of promise. Whilst we may be sad that our droll and dapper leading man is saying goodbye, Tom Ellis really has grown into his horns and wings, as has Lauren Graham's Chloe.
Their chemistry is unrivaled in darkly comic shows like this. Plus, the show has an incredible supporting cast who have become key players in Lucifer's story, particularly DB Woodside as the stern Amenadiel, who is now an angel turned police offer, and Aimee Garcia as Ella, the chirpy forensic scientist, whose faith is tested when she comes across a random frog on her car bonnet.
However, Kevin Alejandro proves that he is certainly the MVP of the series. Though his character, Dan, died last season, giving us a true blub-fest, he returns stuck in a sort of limbo, then as a ghost. Still able to bring humor to his situation, Alejandro is fantastic in his scenes, and you have to wonder how anyone kept a straight face while trying to pretend they can't see him.
It's fair to say that there will be a few filler episodes across Season 6, as the show slides back into its murder mysteries and procedural affairs. It is at least comforting to know the show is willing to still make big swings and poke fun at itself (a future highlight in Episode 8).
The biggest question now is whether or not our plucky Lord of Hell will tack the mantle of God or will someone else take his place. After six seasons, we have definitely learned that it is better the devil you know.
Don't miss our review of season 3 of the trending superhero drama 'Titans'!
The final season of Lucifer is now streaming on Netflix.