Live-action DC superhero show Titans has returned for a third season, with all 13 episodes currently available to stream on Netflix UK.
Introducing two DC Comics favorites to the cast, the show vastly improves on the previous two seasons, thanks to a compelling central villain, a change of location and a more streamlined approach to the storytelling. Matthew Turner takes a trip to Gotham City.
The first season of Titans – created by Akiva Goldsman, Geoff Johns, and Arrowverse head honcho Greg Berlanti – successfully blended superhero action and dark humor but was repeatedly let down by misguided decisions on tone and content, specifically an over-reliance on both extreme, nasty violence (committed by the heroes, at that) and an approach to swearing that can only be described as gratuitous.
The second season went some way towards correcting those problems, but still felt unfocused, with too many characters, too many villains and too many storylines.
However, on the strength of the first seven episodes, the third season of Titans appears to have taken all that on board. The writing has improved considerably, on a number of different levels, and the show seems to have a new confidence in its own identity. As a result, Season Three is shaping up to be the best so far.
The early episodes of the season give the status quo a significant shake-up. After Jason Todd / Robin (Curran Walters) is murdered by the Joker, Batman (Iain Glenn) kills the Joker in return and then mysteriously disappears, instructing Dick Grayson / Nightwing (Brenton Thwaites) to "Be a better Batman" in his absence. Grayson duly relocates the Titans from San Francisco to Gotham City and the entire team move into Wayne Manor, with the Batcave just downstairs.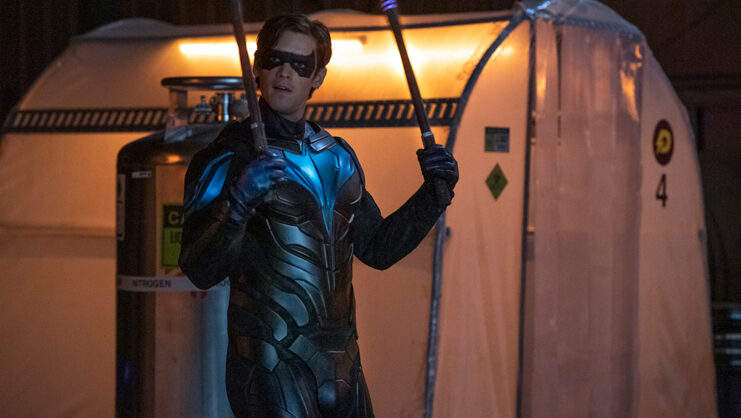 However, they've barely had time to unpack before they're targeted by an apparently resurrected Jason, who's now calling himself Red Hood. Working together with former vigilante partner and love interest Barbara Gordon (Savannah Welch), who's now Commissioner, Grayson seeks help from an incarcerated Jonathan Crane / Scarecrow (Vincent Kartheiser) in stopping Jason's reign of terror. What could possibly go wrong?
Meanwhile, tensions increase when Kory / Starfire (Anna Diop) moves her sister Blackfire (Damaris Lewis) into Wayne Manor with the intention of keeping an eye on her, despite the fact that she killed their parents.
At the same time, the show strategically moves other regular characters off the board, dispensing with Hawk and Dove (Alan Ritchson and Minka Kelly) after a couple of episodes and keeping Rachel / Raven (Teagan Croft) in an undisclosed location for the first eight episodes.
That discreet trim to the core cast has the desired effect of immediately streamlining the central story, which is just as well because Vincent Kartheiser is so good as Scarecrow that you immediately want him to be in as many scenes as possible. He's the undisputed highlight of Season Three, delivering an effortlessly compelling performance that's as charismatic as it is chilling.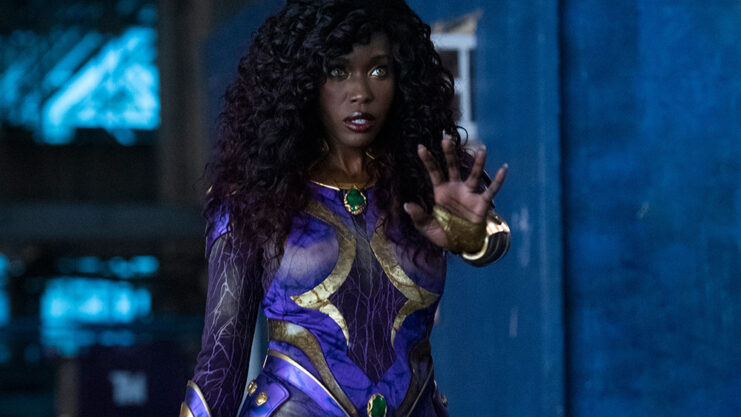 The show's other new addition is equally effective. Barbara Gordon (aka Batgirl) has long been a DC fan favorite and Welch's performance does justice to the character, sparking strong chemistry with Thwaites' Grayson in the process. It's also an inspired touch to have her be both the new Commissioner and confined to a wheelchair following a comics-endorsed encounter with the Joker.
On that note, the show has put a lot of thought into the action sequences this season, including a terrific fight involving Barbara in the sixth episode that it would be unfair to spoil here. Suffice it to say, she may be confined to a wheelchair, but she can still kick ass with the best of them. Other highlights include Grayson casually taking down a warehouse full of thugs and pretty much every fight-based appearance from Krypto the Superdog.
Thematically, the show is much richer than in previous seasons, moving away from redemption arcs and guilt in favor of exploring ideas of control through fear, manipulation and abuse. The fact that Scarecrow's relationship with Jason has echoes of Batman's own relationship with Jason (and Grayson and Barbara) adds a strong emotional element to an already involving central storyline.
In fact, the writing is firing on all cylinders this season, with enjoyable character interactions, some engaging subplots (e.g. Ryan Potter's Gar / Beast Boy finally discovering some new powers) and some bold storytelling decisions, such as not being afraid to kill off a main character or two, should the need arise.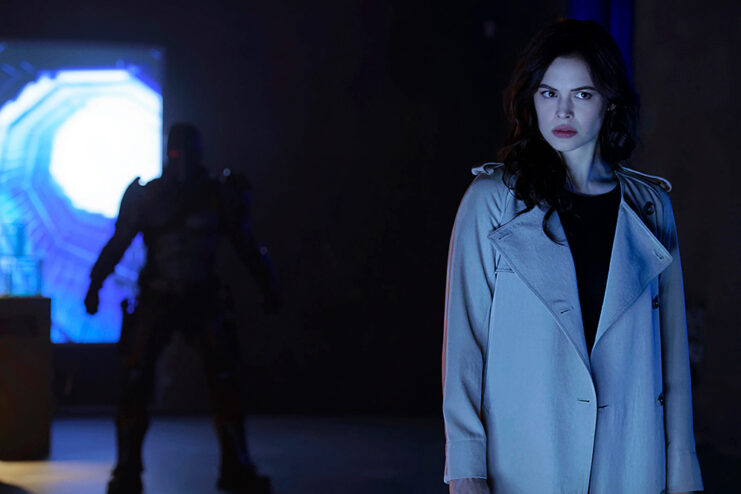 On top of that, the season is packed with fun elements from the comics, whether it's the contents of Batman's souvenir cabinets or not-so-subtle namedrops hinting at potential future characters – there are no prizes for guessing what Gotham teenager Tim's (Jay Lycurgo) surname might be, for example.
On a final note, although the show has considerably toned down the extreme nasty violence, it does still feel the need to drop the occasional f-bomb, which continues to be a baffling decision, considering the popularity of the Teen Titans GO! cartoon with young children and the likelihood of younger viewers wanting to check out the live-action versions of their favorite characters.
In short, judging by the first seven episodes, the third season of Titans has learned valuable lessons from the mistakes in its previous two outings and has quietly course corrected to become one of the better superheroes shows on TV. Here's hoping the show continues that upward trend, as it's already been commissioned for a fourth season.
Four out of five stars
| | |
| --- | --- |
| Showrunner: | Greg Walker |
| Directors: | Carol Banker, Millicent Shelton, Boris Mojsovski, Nick Gomez |
| Cast: | Brenton Thwaites, Anna Diop, Ryan Potter, Vincent Kartheiser, Damaris Lewis, Savannah Welche, Curran Walters, Minka Kelly, Alan Ritchson, Esai Morales, Chelsea Zhang, Joshua Orpin |
| Cert: | 15 Total number of episodes: 13 |
| Number of episodes watched for review: | 7 |