A lesbian couple's first anniversary weekend turns deadly in this taut cat-and-mouse thriller that's currently available to stream on Netflix. With a sharp script, pacey direction and a pair of terrific performances, it's one of the horror hits of the year. Matthew Turner runs and hides.
Written and directed by Colin Minihan, this suspenseful indie thriller/horror was one of the hits of the 2018 FrightFest film festival. Criminally denied a UK theatrical release, it has now popped up on Netflix and it's fair to say that cinema's loss is the streaming service's gain, as this is one of the best thrillers you'll see all year.
As is often the case with twisty thrillers, the less you know going in the better, which makes it rather difficult to talk about in a review. Suffice it to say, if your interest is already piqued, you should stop reading now and fire up your Netflix account.
Still here? Alright then. Brittany Allen (who previously made zombie horror It Stains The Sand Red with Minihan) and Hannah Emily Anderson (Jigsaw, The Purge TV show) play Jules and Jackie, a couple who are celebrating their one-year anniversary at a remote lakeside house built by Jackie's great-great-grandfather. However, the atmosphere soon becomes strained when they meet across-the-lake neighbor Sarah (Martha MacIsaac), who claims to be a childhood friend of Jackie's but insists on calling her "Megan".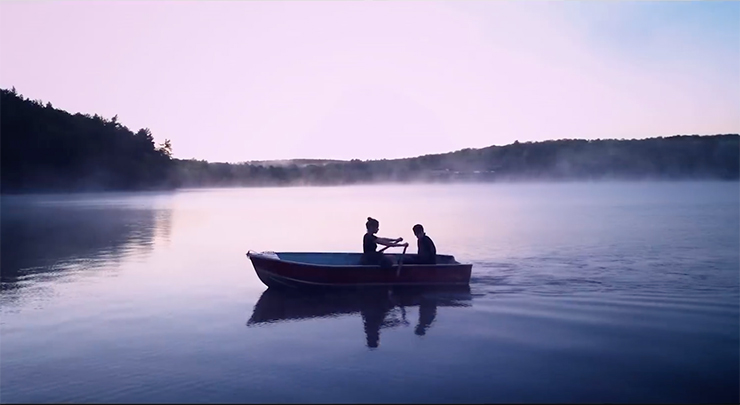 Jackie explains that she changed her name after she came out, but Jules becomes increasingly suspicious and jealous, particularly when she discovers Jackie had a previous girlfriend who died in mysterious circumstances. Then, after a shocking moment of violence, the film kicks into high gear as the pair are plunged into a deadly game of cat-and-mouse.
The performances are extraordinary – in a perfect world, Allen and Anderson would both have received awards and recognition. The pair have terrific chemistry together, which both informs and complicates the situation as their ordeal progresses. Allen, in particular, combines a touching vulnerability with steely resourcefulness, while Anderson is full of surprises, all of which are delightful – her early delivery of both a creepy story and a song she plays on the guitar is just the beginning.
The script is a veritable compendium of rug-pulls, left turns, and sudden shocks and if some of it occasionally seems a little implausible (the characters frequently make terrible decisions), then that just makes screaming at the screen part of the fun. In particular, Minihan has a lot of fun with various set-ups and pay-offs throughout the film, not least in a rather prominent room decoration that might as well have "Chekhov's Shotgun" written under it.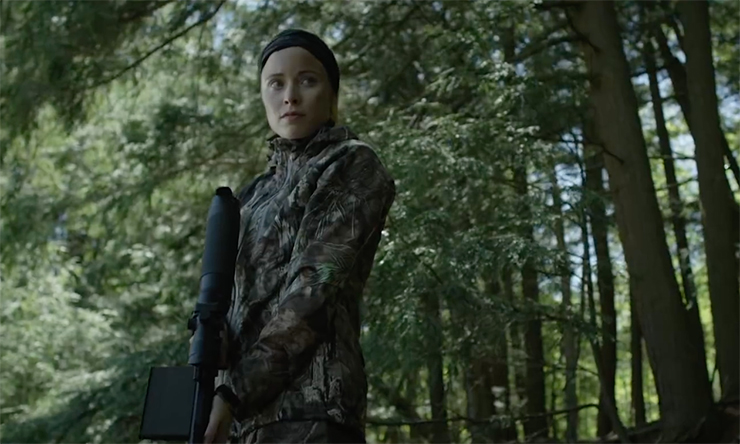 Minihan's direction is consistently impressive throughout, creating a nail-bitingly suspenseful atmosphere and delivering genuine heart-in-mouth thrills on a minute-by-minute basis. The atmosphere is further heightened by some inventive camerawork, which is subtly different for each of the main characters.
On top of that, Minihan and cinematographer David Schuurman make terrific use of the spectacular forest and lakeside scenery (it was shot on location in Ontario) and there's a superb score from co-star (and Minihan's partner) Brittany Allen, which adds to the tension.
In Q&As for the film, Minihan revealed that Anderson's character was gender-swapped at the last minute, after the actor that was due to play the part had to pull out. That's the very definition of a happy accident because the film is much stronger for its portrayal of a lesbian relationship – had they been a heterosexual couple, the film would have felt much more generic and been far less interesting as a result. It also feels much more modern, exploring destructive paranoia within relationships and the idea that you can never really know someone.
Taut, thrilling and packed with delicious twists and turns, this is a terrific indie horror that marks out Minihan as a serious talent to watch, while leaving you excited to see what its two co-stars do next. It is, in a word, unmissable. Bump it to the top of your Netflix queue immediately.
Five out of five stars
Director: Colin Minihan
Cast: Hannah Emily Anderson, Brittany Allen, Martha MacIsaac, Joey Klein, Charlotte Lindsay Marron
Cert: TBC
Running time: 99 mins