SEGA and WildBrain are planning a new animated Sonic the Hedgehog series, Sonic Prime, for Netflix.
Man of Action Entertainment, the creators of Ben 10, who also worked on the hit movie Big Hero 6, is acting as showrunners and exec producers for the 24-episode series, predominantly aimed at the six to 11 age group but expected to lure in fans of the original games and comics.
"Sonic is a beloved character and holds a special place in everyone's heart including my own," said Dominique Bazay, Director of Original Animation, at Netflix. "I spent many hours with the blue blur as a kid and it's a privilege to be able to bring this character everyone knows and loves on a brand new adventure with Netflix — one that a generation of loyal fans and brand new fans around the world can enjoy."
Sonic has a track record in animated adventures, having appeared in three different cartoon series in the 90s (with Jaleel White voicing the character). The last series, Sonic Boom, was broadcast on the Cartoon Network from 2014 until 2017.
"With generations of devoted fans around the world, Sonic the Hedgehog is more popular today than ever before, and we're thrilled to be partnering with Netflix, SEGA and Man of Action to deliver all-new Sonic adventures for audiences worldwide," said Josh Scherba, President, WildBrain, the Vancouver studio working on the 3D-style animation."
This premium franchise is ideally suited to WildBrain's capabilities and it's already inspiring great things from our talented creative teams. We've witnessed first-hand the enduring popularity of this brand from the strong and steady global demand for our library of legacy Sonic series. We look forward now to bringing fresh and exciting Sonic content to fans both new and old."
Sonic Prime is moving ahead at the same time as a sequel to the 2020 big-screen live-action movie. Sonic Prime is expected to premiere on Netflix next year.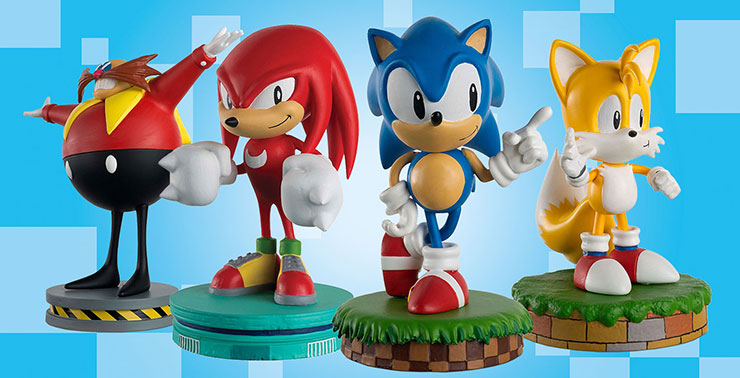 The Sonic the Hedgehog Figurine Collection celebrates his classic SEGA era.
The collection includes beloved characters such as Sonic, Tails, Knuckles and their arch-enemy Dr Eggman. Scroll down to take a look at the first four models.
Each figurine is hand-painted and cast in polyresin at 1:16 scale (approximately 10-12cm tall), with 8-bit versions of the characters coming soon too. The figurines all come with a companion magazine – highlighting the background of the character's design, a zone from the original games, classic cover art, and a history of SEGA.