As part of Star Trek Day's event, we've been given a lot of new trailers and news. Two of the highlighted shows were new Star Trek: Strange New Worlds and Star Trek: Discovery Season 4.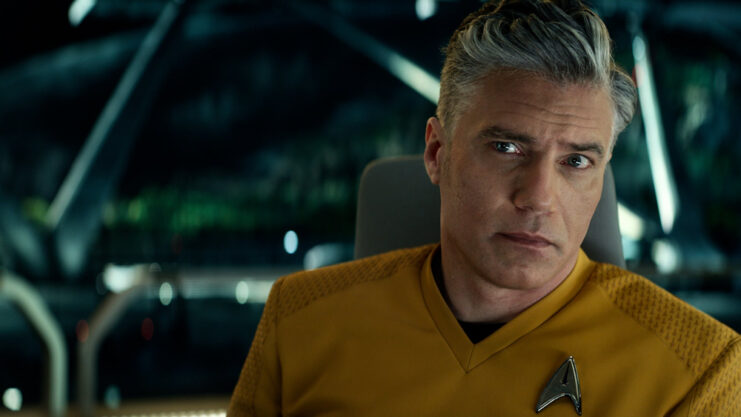 As fan favorites in Discovery's season 2, Captain Christopher Pike, Number One and Spock received their very own spin-off show featuring the U.S.S. Enterprise, as a prequel to Star Trek: The Original Series. Strange New Worlds has been in the works since March 2020 and season 1 will air on Paramount+ sometime in 2022.
Watch the Strange New Worlds panel below:
In the panel, Anson Mount, Rebecca Romijn and Ethan Peck revealed little bits of what is to come and what it is like to work on a set that so closely resembles the original series. As well as the difference between the serialized show like Discovery vs. the stand-alone episodes that the original series was known for.
Peck was most excited to see into Spock's view scope, while Mount found it amazing to walk around in the captain's quarters with numerous amounts of shin-bruising furniture. And Romijn highlighted the fact that it was both wonderful and emotional to be able to work on the actual Enterpise, as well as all together with its cast, for the first time on the bridge.
Jess Bush is Nurse Christine Chapel.
Christina Chong is La'an Noonien-Singh.
Celia Rose Gooding is Cadet Nyota Uhura.
Melissa Navia is Lt. Erica Ortegas.
Babs Olusanmokun is Dr. M'Benga.
Bruce Horak is Hemmer.
While we've still got a while to wait, it's shaping up to become an excellent new Star Trek series.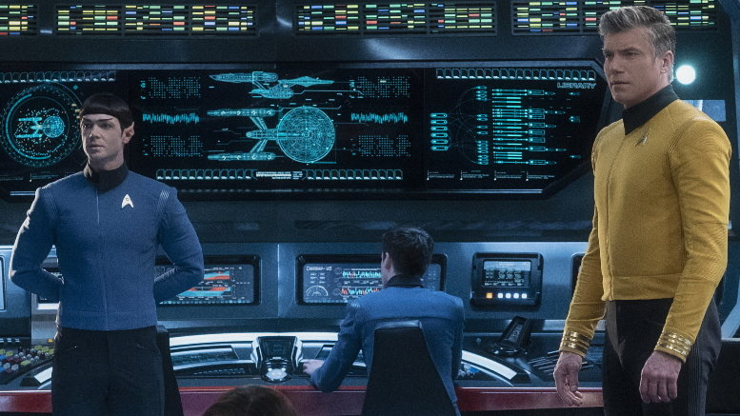 One thing we won't have to wait much longer for is Star Trek: Discovery season 4, revealed to be airing on Paramount+ this coming November. The previous season left the crew of the Discovery in a new place, with Captain Burnham at the helm, and Saru back on Kaminar to help Su'Kal.
But in their panel Wilson Cruz, Blu del Barrio and Ian Alexander, along with showrunner and executive producer Michelle Paradise, revealed that Doug Jones will be back. Cruz mentioned that some of his favorite scenes were with Jones.
Season 4 will see the crew of Discovery on a new mission to ship the much-needed dilithium to distant planets. As well as see them working towards Grey receiving a corporal body.
We may not have been rewarded with a new trailer this week, but we did receive a lovely new image of Captain Michael Burnham.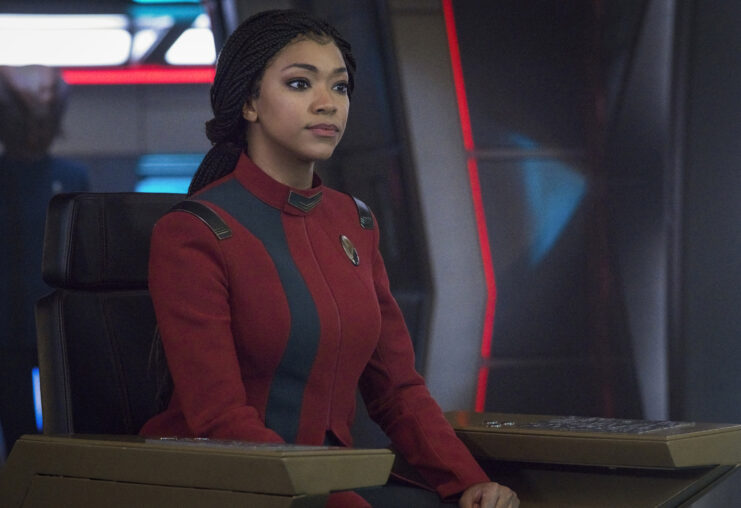 Star Trek: Discovery season 4 will premiere November 18th on Paramount+ in the US, and will stream on Netflix in the UK as well as internationally. Star Trek: Strange New Worlds will be released in 2022.