An isolated island community experiences strange events after the arrival of a mysterious new priest in Netflix's new seven-part horror drama from writer-director Mike Flanagan. Strong on character and atmosphere from the start, it's a thoughtful, slow-burn horror that explores some big ideas in amongst its scary moments. Matthew Turner feels the fervour.
Writer-director Mike Flanagan has certainly been busy. Midnight Mass is his third horror mini-series for Netflix in four years, following the successes of The Haunting of Hill House and The Haunting of Bly Manor. Here, he departs from the haunted house format, in favour of a Stephen King-like tale set within a small island community.
The result may not be as straightforwardly terrifying as Flanagan's two previous shows, but it's creepy, unsettling and has ambitions towards more than just jump scares and gory bits.
After a short prologue sequence in which Zach Gilford's Riley receives a prison sentence after killing a child in a drunk-driving accident, the story begins four years later on the island community of Crockett Island, whose population of 127 has declined rapidly due to a recent oil-spill incident that decimated the town's fishing industry.
As we're introduced to the various townsfolk, we quickly learn that the entire community are strongly religious and also that a mysterious new priest has arrived (Hamish Linklater as Father Paul), replacing the parish's beloved Monsignor Pruitt.
The town's inhabitants are also buzzing about two recent prodigal returns: Riley, who's released from prison after serving four years, and pregnant, single Erin (Kate Siegel, Flanagan's real-life wife), Riley's former girlfriend, who's taken over as schoolteacher after the death of her mother.
The trio of new arrivals coincides with a number of spooky events, including a storm that devastates the island's wild cat population, the possibly spectral appearance of Monsignor Pruitt and an apparent miracle, performed by Father Paul in his second sermon. Oh, and there's also something lurking in an abandoned house that may or may not be a giant cat monster.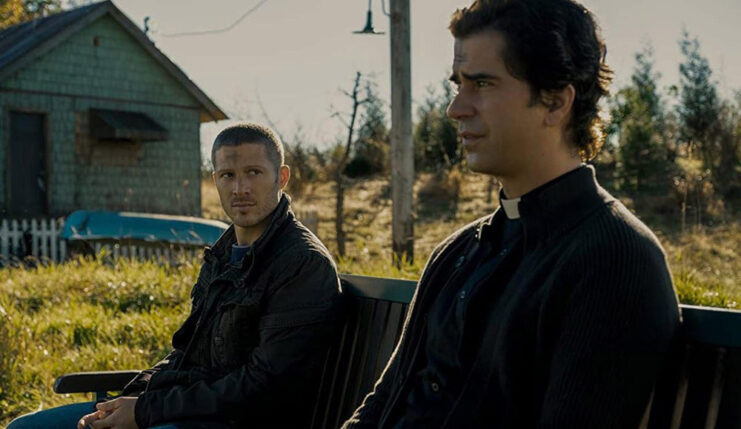 Other than establishing that Riley is haunted by a broken-faced ghost woman who looks like she's swallowed a load of Christmas lights, the first episode largely holds off on creepy moments, in favor of introducing multiple Crockett Islanders and how they relate to each other. Accordingly, the set-up is very promising – there are plenty of tensions within the town (religious, romantic, familial, economical) and even a group of teens with a Stranger Things vibe.
Then the episode closes with a disturbing bit of imagery (which, frankly, ought to have some sort of animal-related trigger warning attached to it) before the creepiness starts in earnest with the second episode, 'Book II: Psalms' (all the episodes are named after chapters of the Bible).
Drawing on his own personal experience, Flanagan (who directed and wrote or co-wrote all seven episodes) digs deep into several meaty themes, exploring grief, guilt, the nature of faith and, most intriguingly, the connection between religion, addiction and recovery programs – in the second episode, Father Paul sets up a one-on-one AA group for Riley and it's clear their relationship will be crucial to the rest of the story.
On a similar note, Flanagan uses Hamish Linklater's intensely charismatic performance to raise interesting questions about the blind trust religious communities place in authority figures, especially where the church is involved – newly arrived Father Paul is almost instantly welcomed, for example, in contrast to Crockett Island's Muslim Sheriff Hassan (Rahul Kohli), who's viewed with suspicion by many, despite being an obviously kind-hearted, sympathetic figure.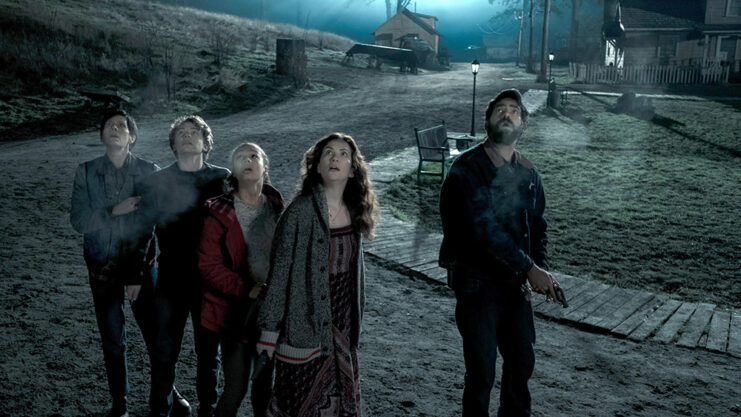 Flanagan has built up an effective repertory company over the course of his three Netflix shows and there's strong work here from regular cast members Siegel, Henry Thomas (as Riley's father) and Annabeth Gish (as the town doctor). In addition, Flanagan newcomers Gilford and Linklater are both terrific as Riley and Father Paul, the former expertly conveying the crippling weight of guilt and shame and the latter finding ways to suggest a sinister undercurrent to ostensible goodness.
Flanagan's direction is assured throughout, not least in his use of unsettling camera angles and offbeat framing to suggest that something isn't quite as it ought to be (e.g. that first AA meeting). As with his previous shows, he's also adept at establishing a creepy atmosphere, notably by filling the screen with darkness and holding the shot, forcing the audience to scour the image for movement in the darkness.
The show may be lighter on out-and-out horror than its predecessors, but that's not to say that Flanagan isn't above serving up a handful of great jump scares (the island is full of cats, after all) or some memorably nasty moments, heightened by an atmospheric score and some suitably icky special effects work, respectively.
In short, Midnight Mass requires a level of thematic investment on the audience's behalf, but the reward is a compellingly creepy small-town supernatural drama that will leave you with something to think about. It also knows a thing or two about binge-friendly cliffhangers, ensuring that even the least satisfying episode will still have you coming back for more.
Creator/Showrunner: Mike Flanagan
Cast: Zach Gilford, Hamish Linklater, Kate Siegel, Rahul Abburi, Crystal Balint, Matt Biedel, Alex Essoe, Annabeth Gish, Rahul Kohli, Kristin Lehman, Robert Longstreet, Igby Rigney, Annarah Shephard, Samantha Sloyan, Henry Thomas, Michael Trucco
Total number of episodes: 7
Number of episodes watched for review: 2
Midnight Mass is now streaming on Netflix.