Like the sound of a certain superhero TV show, but uncertain whether to commit? Then you've come to the right place. This week it's the turn of the CW network's Arrow, the success of which lead directly to sister shows The Flash and DC's Legends of Tomorrow. With the fifth season of Arrow about to begin in the UK, here's a handy cut-out-and-keep guide to the adventures of DC's Emerald Archer.
What's it about?
Arrow is based on the DC Comics character Green Arrow, who's effectively part Robin Hood and part Batman, with a dash of Robinson Crusoe thrown in for good measure. The show centres on presumed-dead billionaire playboy Oliver Queen, who returns home to Starling City after spending five years stranded on a desert island.
Vowing to protect the city he loves, Oliver adopts the identity of a masked vigilante and sets out to fight crime and corruption, armed with a bow and arrow and some impressive fighting skills.
Who's who?
Oliver Queen / The Arrow (Stephen Amell)
The show's hero. Each episode centers on Oliver confronting a threat to Starling City, while simultaneously advancing the story of what happened to him on the island, via flashbacks. His character evolves considerably over the course of four seasons – for example, he's not above flat-out killing his enemies in season 1, but he develops more of a conscience from season 2 onwards and instigates a no-kill rule.
Thea Queen (Willa Holland)
Oliver's younger sister, nick-named "Speedy". In Oliver's absence, Thea has gone off the rails, dating dodgy ne'er-do-wells and flirting with alcohol and drugs.
John Diggle (David Ramsey)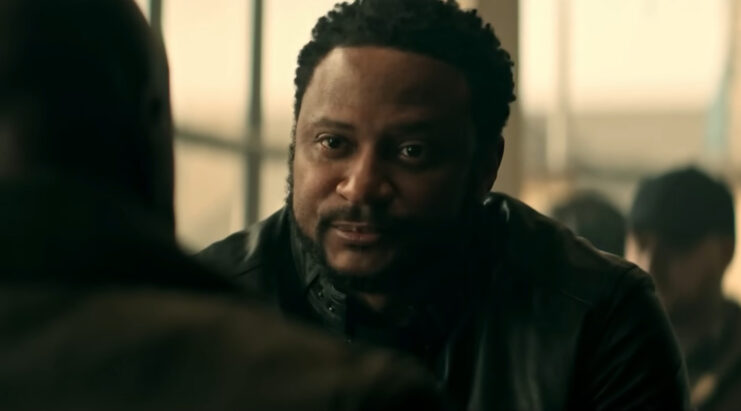 A former United States Army Special Forces soldier, Diggle (left, above) is hired as Oliver's bodyguard, but quickly becomes his best friend and confidant, helping him balance his public life and his vigilante activities.
Felicity Smoak (Emily Bett Rickards)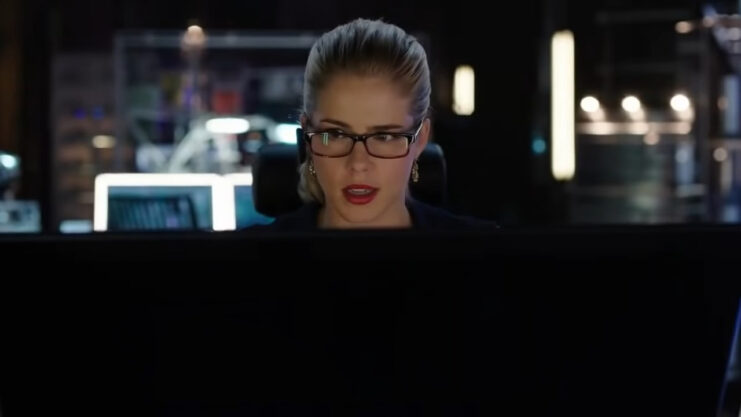 Felicity (middle, above) is a wise-cracking, bespectacled computer expert who joins forces with Oliver early on in season 1 and immediately transforms the show, adding much-needed humour. The chemistry between Rickards and Amell was quickly picked up on by both fans and producers, leading her to become Oliver's love interest in later seasons.
Other key characters include: Oliver's ex-girlfriend, assistant district attorney Laurel Lance (above, left as Black Canary) (Katie Cassidy), police Captain Quentin Lance (Paul Blackthorne), Oliver's shady mother Moira Queen (Susanna Thompson), Oliver's best friend Tommy Merlyn (Colin Donnell), and Tommy's father, wealthy businessman Malcolm Merlyn (John Barrowman), who's the main antagonist of season 1, with a dastardly plan to destroy part of the city.
Why should I be watching?
As with the other superhero shows in the CW stable, Arrow successfully combines thrilling action, laugh-out-loud humour, likeable characters and impressive plotting, balancing a compelling season-long arc with entertaining villain-of-the-week stories and engaging emotional drama in the form of slightly soapy sub-plots (e.g. a love triangle between Oliver, Laurel and Tommy).
In addition, the show fully embraces its comic-book background, whether through its constant use of colourful DC supervillains (such as The Huntress or Firefly) or lovely little throwaway Easter Egg moments, like Oliver sticking a boxing glove on an arrow in one episode.
How does the show evolve?
Season 1 takes a while to find its feet, but it repays your perseverance with a terrifically exciting final stretch, while season 2 is properly brilliant from start to finish. Seasons 3 and 4 weren't quite up to the same level, but Arrow has a history of actively learning from its mistakes (the no-kill-rule course-correct in season 2 is significant) and hopes are high for season 5.
What should I look out for?
In addition to introducing and setting up the sister show The Flash, season 2 also has a Suicide Squad episode that's arguably better than the recent movie.