Bradley Cooper plays a con man drawn to Cate Blanchett's femme fatale in this '40s-set noir thriller, directed by horror maestro Guillermo Del Toro. Achingly stylish, superbly acted and deliciously dark, it's one of the best films of the year. Matthew Turner savours the atmosphere.
A labor of love for director Guillermo Del Toro, Nightmare Alley is based on a pulpy 1946 novel by William Lindsay Gresham and is a de facto remake of Edmund Goulding's acclaimed 1947 film noir of the same name. Closely mirroring the original movie in terms of plot, Del Toro brings his signature style to the new version, conjuring a world so dark and cynical that our own current 2022 reality (a nightmare alley if ever there was one) will feel like a breath of fresh air afterward.
Beginning in 1939, the film stars Bradley Cooper as Stanton Carlisle, a drifter fleeing a crime scene that he's burned to the ground. In need of a job, he stumbles upon a carnival run by Clem Hoatley (Willem Dafoe) and is instantly horrified by the spectacle of a "geek", a seemingly wild man who bites the heads off chickens and snakes in a circular pit.
A fast learner, Stan quickly ingratiates himself with clairvoyant Zeena (Toni Collette) and her alcoholic husband Pete (David Strathairn), who tells him the secrets of a mentalist act, whereby an assistant feeds him clues from an audience, allowing him to create the illusion of reading minds. Sensing a great future, Stan persuades fellow performer Molly (Rooney Mara) to run away with him, and together they perform a high-class mentalist act at a swanky club in Buffalo, New York.
However, when Stan meets slinky psychiatrist Lilith Ritter (Cate Blanchett), he's irresistibly drawn to her, roping her into a plan to fleece the town's richest citizens by doing "a spook show", pretending he can talk to their dead loved ones. But has Stan bitten off more than he can chew?
As with all the best film-noir movies, the themes of Nightmare Alley are incredibly bleak, namely that the world is full of suckers and the system exists to exploit them, whether through carnival freak shows, illusionists, spiritualists, psychiatry or capitalism. The way the system will gleefully exploit even a man at his very lowest point (represented by the circus geek) is central to the film's worldview and it's genuinely chilling.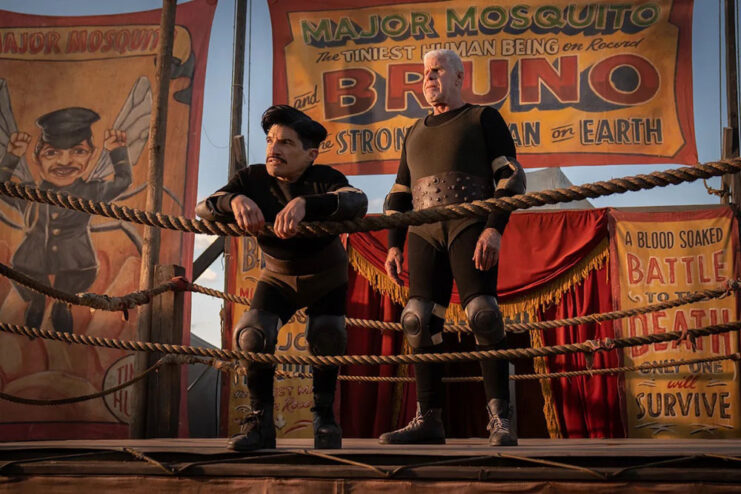 Fresh from his Oscar-winning creature feature The Shape of Water, Del Toro's direction is masterful throughout, creating an oppressively dark atmosphere that perfectly matches the film's mood. He's aided by Dan Laustsen's stunning cinematography (even the very few daytime scenes are cloudy – there's not a moment of sunshine in the entire film), and some utterly gorgeous production-design work.
One particular highlight occurs when Stan has to enter the haunted house and is confronted with a giant, mechanically blinking eye (a repeated motif throughout the film), reminiscent of the surreal artwork Dali did for Hitchcock in Spellbound.
Cooper is terrific as Stan, perfectly encapsulating the idea that the smooth-talking showman on the outside masks a hollow shell, devoid of morality or conscience. Blanchett is equally good, and Del Toro makes the most of her classic Hollywood looks, conjuring up memories of classic film noir femme fatales, her eyes full of cold calculation.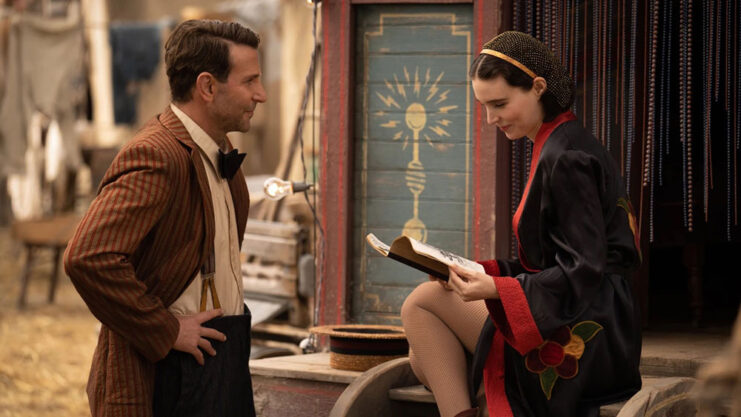 In addition, Del Toro has packed the supporting cast with world-class character actors, each of whom is on top of their game. Dafoe, in particular, is fabulous as the grinning carnival boss, particularly when he casually explains to Stan just how you persuade someone to be a circus geek.
Similarly, Collette sparks delightful chemistry with Cooper in her role as Zeena, though it feels like her part has been significantly cut down, especially when compared to her counterpart in the original film. There are also great turns from Del Toro semi-regular Ron Perlman (as the carnival's protective strongman) and from Richard Jenkins as an insanely rich capitalist who believes he can buy the redemption he seeks.
In short, this is Del Toro firing on all cylinders, a beautifully crafted, richly atmospheric and thrillingly dark-hearted drama that packs a powerful punch. Highly recommended.
Five out of five stars
Director: Guillermo Del Toro
Cast: Bradley Cooper, Rooney Mara, Cate Blanchett, Ron Perlman, Toni Collette, Mary Steenburgen, Willem Dafoe, David Strathairn, Richard Jenkins
Cert: 15
Running time: 150 mins
Nightmare Alley is in cinemas from tomorrow.